Individual price: 24.50 € per person per night
Price for children (6 to 12 years): 12.50€ (minimum age allowed for children 6 years)
Price for groups from 10 people (school / university, associations, community centers, etc.): 22€ per person per night for minors and 23€ for adults Terms and conditions
Towels for rent: 1,50€
All rates include breakfast. Bed sheets/linen is also provided.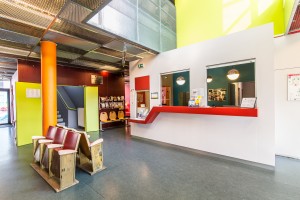 Please note that the Youth Hostel is not intended to accommodate people for long stays. This is why we limit the bookings to no more than 3 nights and on-site renewal is subject to availability.
Upon request and justification, the maximum limit of 3 nights is not applicable if you are in education but is however subject to our discretion.
The Youth Hostel Bordeaux is independent and is not affiliated with other networks such as the French FUAJ (United Federation of Youth Hostels) and LFAJ (French League of Youth Hostels) or the Hostelling International network. Consequently, it is not necessary to have a membership card for your stay with us.
For groups only, meal and catering services (on-site or as a packed lunch) are available on request. Please contact us to request rates.