Diner may be organised for groups. Pierre Martin, our caterer from Bordeaux, cooks a tasty cuisine with fresh products.
Within the below possibilities, you can compose your meal with a starter, a meat with a side dish (or a unique meal) and a dessert. The evening meal is the same for the whole group. If some people have a special diet, a kitchen is at their disposal for self catering (and a fridge as well for storage).
Diners will be served at a time of your convenience (last service at 8 PM) in the common room by our team.
 *  *  *

Take away lunch 6€
sandwich or wrap : ham/swiss cheese or chicken/raw vegetables or swiss cheese/vegetables
Bag of crisps
Fruit or compote or cannelé or 2 little breads with chocolate chips
Bottle of water
*  *  *
Meals at 12€
Starters :
Assortment of raw vegetables : grated carrots, sliced cucumbers and tomatoes
Assortment of pâtés : duck mousse, country-style pâté, pork rillettes, sweet pepper pâté
Cheese puff pastry
Vegetables puff pastry
Quiche (bacon and ham)
Meats :
Sweet and sour pork
Roasted chicken leg and thigh
Poultry blanquette
Nuggets
Cod brandade with salad
Side dish :
Rice
Potatoes
Pasta
Zucchini gratin
Custard tart of vegetables

Desserts :
Basque cake
Apple + Cannelé
Yaourt + Cannelé
Custard tart
Apple pie
Formule at 8€
Quiche with salad + yogurt or apple or apple pie
Croque monsieur with salad + yogurt or apple or apple pie
Ham with pastas + yogurt or apple or apple pie
Cold roasted pork with salad or tabouleh + yogurt or apple or apple pie
Für Gruppen werden abends Menüs angeboten.
Pierre Martin und sein Bordelaiser Cateringservice bereiten die Gerichte mit frischen Produkten vor.
Mittags bietet die Bäckerei « Saveurs et Croquants » den Gruppen ebenfalls Picknicks an.
*  *  *

L

unchpaket für 6

€
-Einer Tüte Kartoffelchips-Sandwich (Brot oder Wrap) mit Hühnchen und Salat, gekochtem Schinken, oder Emmentaler mit Salat-Nachspeise nach Wahl: Kompott / Cannelé (Bordelaiser Spezialität: kleine weiche Kuchen mit Karamellüberzug) / Obst / 2 Pétrichocs (kleine süße Brötchen mit Schoko-Tropfen)
*  *  *

Das Menüangebot für 12 Euro:
Vorpseise:
Gemüseplatte: geraspelte Karotten, Gurken, Tomaten
Pastetenteller: Entenlebermousse, Pâté de campagne, Rillettes, Paté au Piment d' Espelette
Blätterteiggebäck mit käse
Blätterteiggebäck mit Gemüse
Quiche (mit Schinkenstückchen )

Hauptspeise:
-Schweinefleisch in süßsaurer Soße-Gegrillte Hühnchenschenkel-Geflügelfrikassee-«Brandade de morue » (gesalzener Stockfisch mit Kartoffelbrei) und Salat als Beilage
Beilagen:
Reis
Kartoffeln
Nudeln
Kartoffelauflauf
Zucchiniauflauf
Gemüseauflauf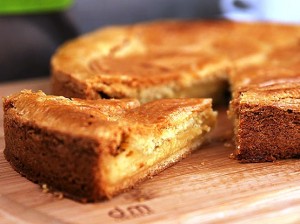 Nachspeisen:
Baskischer Kuchen
Obst (Apfel) + Cannelé ( Bordelaiser Spezialität : kleine weiche Kuchen mit Karamellüberzug)
Danette (Pudding) + Cannelé (Bordelaiser Spezialität : kleine weiche Kuchen mit Karamellüberzug)
Sahnequark mit rote-Früchte-Coulis
Flan pâtissier (französischer Puddingkuchen)
Das Menüangebot für 8 Euro :
-Quiche + grüner Salat + Joghurt oder Obst oder Apfelkuchen
-Croque-Monsieur (getoastetes Schinken-Käse-Sandwich) + Salat +Joghurt oder Apfelkuchen
-Kalter Schweinebraten in Scheiben + Reissalat oder Taboulé + Joghurt +Obst +Apfeltorte